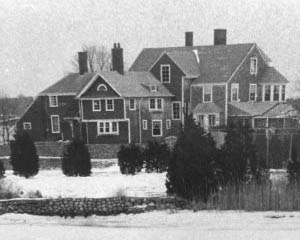 In 1887 Mr. and Mrs. Charles A. King of Boston purchased meadowland and beachfront property at the head of the harbor, near the mouth of the Mattapoisett River. There they built a spacious summer house which they named "The Reservation." After World War II The Reservation became a celebrated summer inn, first called the Mattapoisett Manor, and later Shining Tides.
In 1963, the leadership of the YMCA purchased the property and its adjoining 25 acres on the Mattapoisett Harbor. The plan was to use the property as a summer camp for inner-city and suburban youths. After the purchase, the YMCA named the property Camp Massasoit, and made improvements to the facility to create an exceptional complex while retaining the traditional charm of the site's heritage. In 1992, the house was renovated for year round use and now hosts a preschool and school-age after school program.
An Idyllic Wedding Location
---
In 2010, in response to frequent outside requests to use the picture perfect house and grounds for private events, YMCA Southcoast's Board of Directors agreed to open Shining Tides for weddings, receptions, and special functions on a limited basis. Consistent with the Y's mission to promote and encourage life-long development for children and families through programs that build healthy spirits, minds, and bodies, proceeds from events booked at Shining Tides help to provide scholarship funds for children who otherwise could not afford to attend summer camp. Sharing the love you feel on your wedding day through a connection that extends even beyond your wedding guests and into the greater community creates a truly memorable and gratifying event.
Elizabeth goes above and beyond the ordinary to create memorable events. She treats each wedding or special event as if it's her own so that clients feel comfortable and heard every step of the way. She prides herself on crafting every experience in a way that truly represents the unique personality of each couple.
Elizabeth has been at Shining Tides since we opened our doors in 2010. Previously she was a private wedding planner for 6 years. She began her career in the hotel industry where she honed her skills and appreciation for hospitality for 10 years. She began as a concierge but soon transitioned to sales & catering where she planned a variety of corporate and social events which sparked her passion for event planning.
Elizabeth is a natural in the wedding and event industry. Her level-headed approach and friendly face relieves stress for everyone around her, and instills confidence that the event will be a success. She relishes the planning process from the very first meeting throughout the duration of each momentous event.
Once you meet Elizabeth you will recognize immediately that her enthusiastic can-do attitude and her attention to detail will exceed your expectations.
Elizabeth Lynch
Sales & Event Manager
Shining Tides Weddings